Alaina Brandenburger on Mar 7th 2022
If you're looking for elegant touches for your wedding, corporate event, or interior, try using beaded curtains. While at first, this design element might make you think of 1960s hippie-chic, today's beaded curtains are much more sophisticated. Dress up your next event or temporary display with a beaded backdrop.
Why Consider Beaded Curtains
Beaded curtains offer a sophisticated way to separate spaces in an open floor plan. If you're planning a wedding or a corporate event, consider adding ceiling hanging beads to separate the dance floor from other spaces or to add a touch of pizzazz to the cocktail area. Or consider doorway beads to guide guests from one space to the next, adding an experiential element to your event.
For Events
Beyond serving as a backdrop or privacy screen, you can use beaded curtains in a variety of ways to elevate weddings and other special events. Use them as an accent for colored drapes and other hanging elements by tying them in the middle.
If you have an area designated for photos, place beaded curtains in front of the back drop to add some sparkle to each photo. For a wedding, you can trim several sets of beaded curtains and hang them from the ceiling to serve as a centerpiece on the ceiling. Or you can place individual strands on decorative branches to bedazzle to foliage in the room.
For Window Displays
When you want your merchandise to stand out, consider placing acrylic hanging beads as a backdrop to showcase your merchandise. You can pick a muted color or simple metallics to catch the light and make each piece of merchandise shine.
Backdrop beads are great for highlighting new fashions and accessories and for adding a festive touch to holiday displays. They are easy to hang and take down and can easily be customized for your needs.
Choosing Your Beaded Curtains
Whether you're in need of doorways beads or events drapes, there are many options of beaded curtains from which to choose. For a more elegant touch, choose acrylic beaded curtains. These are available in a variety of colors and can be customized for your event.
You can up the ambiance in the room with custom glass crystal iridescent beaded curtains. They come in 9, 12, and 20-foot strands, reflecting various colors of light depending on how they catch it. Iridescent crystals are great for weddings, holiday parties, and other events in which you want to mimic a shiny, snow effect. These beads are made of real glass, so they're more breakable than acrylics.
For a more rustic feel, try hand-painted wooden beads or bamboo beads. These beaded curtains are great for traditional door hangs. Use them to separate a waiting area from a treatment area in a smaller space or hang them from the ceiling around tables to create a more intimate feeling within your open floor plan.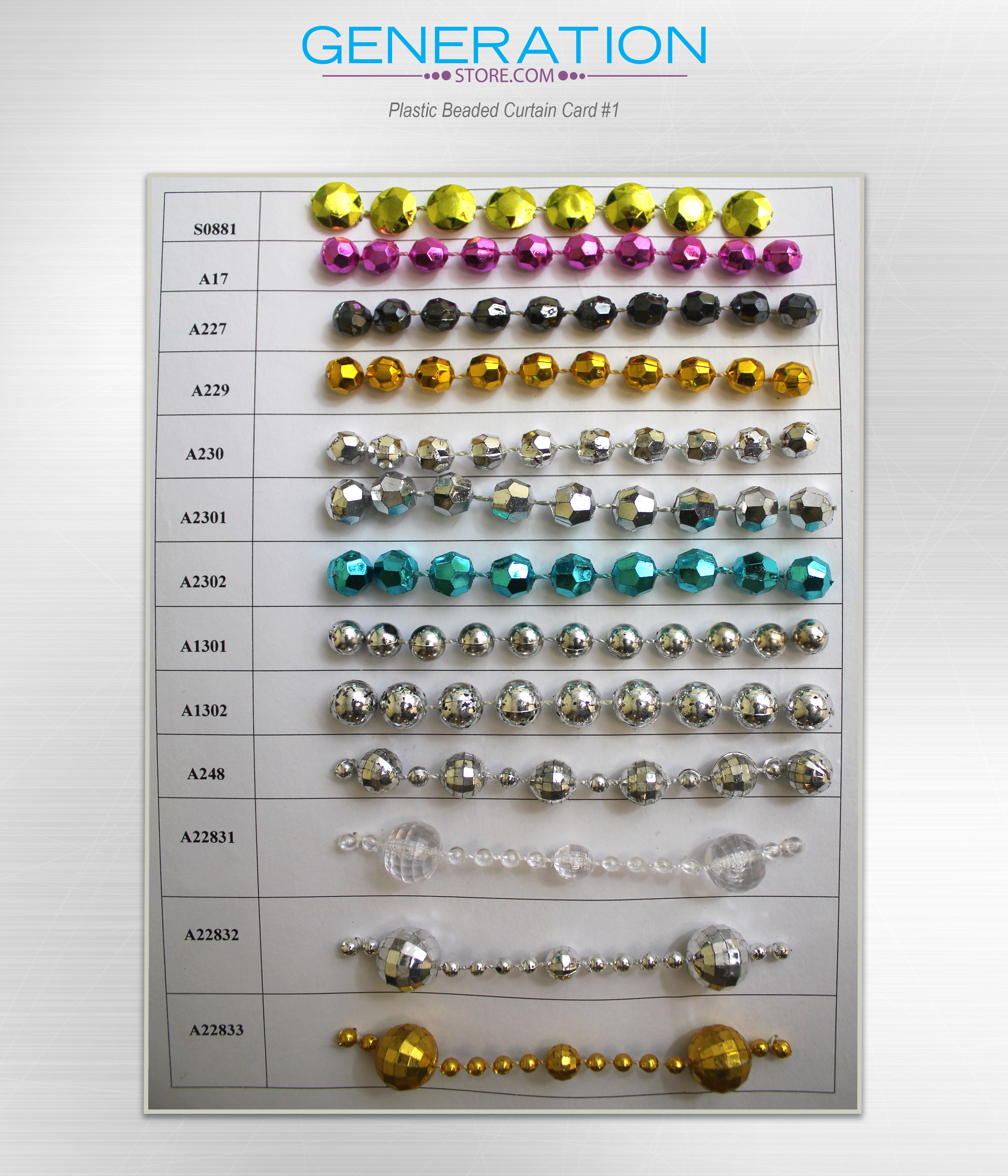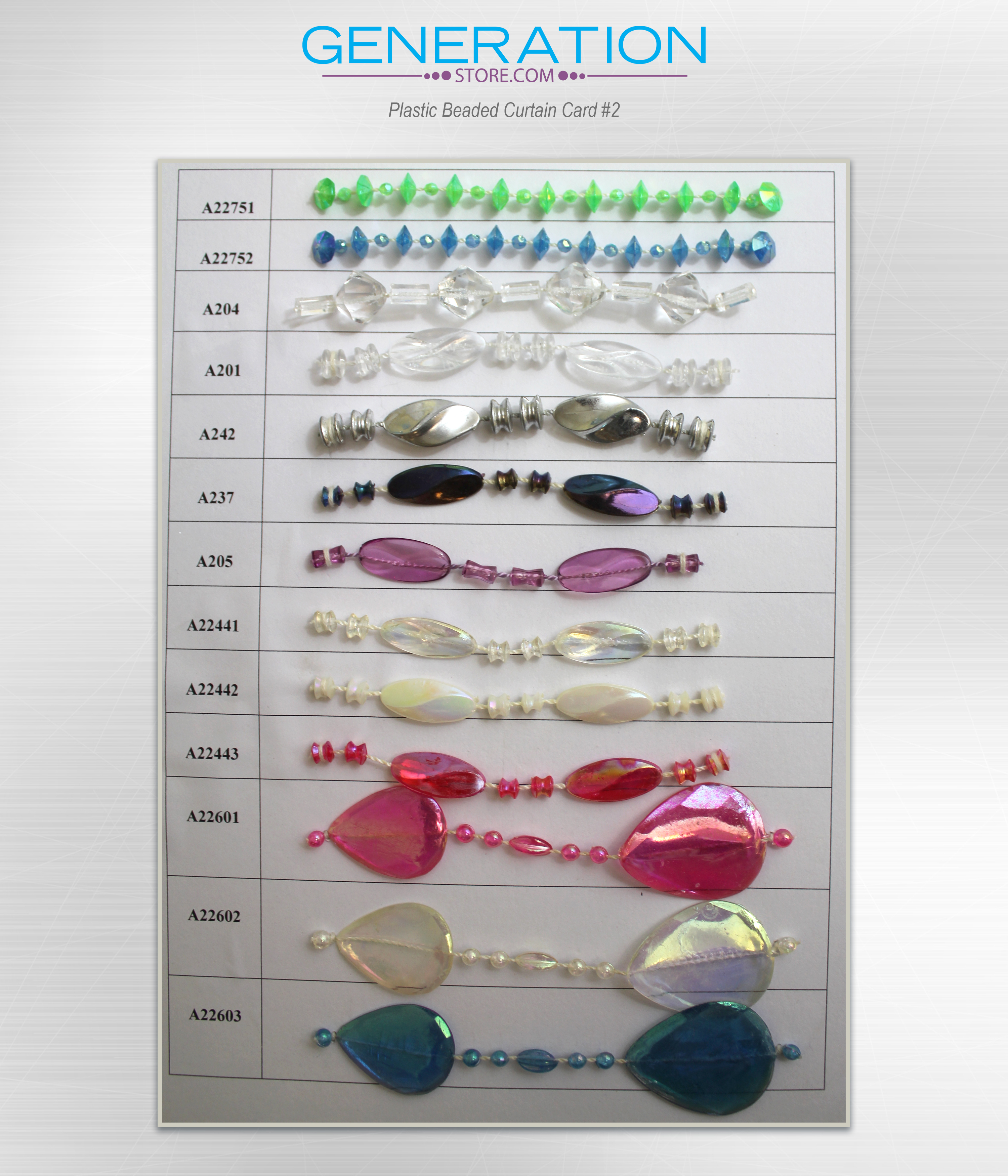 Most popular hanging beads on our website
Crystal Iridescent Diamond Beaded Curtains
These curtains feature small, delicate crystal beads that will easily accentuate any design theme. The iridescent beads catch the light and complement your other adding a sophisticated touch to weddings, cocktail lounges, retail displays, and more.
Faux Metal Ball Chain Beaded Curtain
If you're looking for a darker touch, try the faux metal ball chain beaded curtain. The gunmetal color complements darker palettes and serves as a visual barrier between spaces. If you're interested in creating private areas in an open space, these curtains will accomplish the goal.
Hip Circles Beaded Curtains
Make a bold statement with these beaded curtains. The fun circular shapes offer a break from the norm. Use them to accentuate art installations or to add some zest to a more muted design.
Metal Ball Beaded Curtains
Another faux metal ball option, the metal ball beaded curtains look like real metal, but they aren't as heavy or cumbersome. They're available in four different metallic finishes including gunmetal brown. You can find a set to match your color scheme, blending in with the decor or contrasting it.
Champagne Bubbles Beaded Curtains
Another fun, whimsical option, the champagne bubbles beaded curtains feature circles of varying sizes that resemble bubbles floating to the sky. They're perfect for cocktail areas if you want to be literal, and they're excellent for accentuating vibrant styles.
Installing Your Curtains
You can easily install beaded curtains yourself with a hammer, nails, and a screwdriver. Or if you're hanging multiple sets of beads, you can use an installation team. All beaded curtains are attached to a 35–36-inch rod, but you can remove them if you want to hang the curtain in a circular pattern or in a smaller doorway.
If you need to add length, you can do it yourself by gluing the end of one strand to the whole length of another. You can add some volume by pulling individual strands from a separate curtain and attaching it to the hanging rod. If you're unsure of your design skills, you might want to opt for a custom order to ensure the right color and fit for your event.
For Custom Orders
When you can't find the right set of beaded curtains for your event, you can have them customized. All custom beaded curtain orders must be more than $750. You can email a sketch or drawing outlining your needs or request samples of different materials to visualize the final product. Once you've decided, call us, and we will work with you to create the right set of beaded curtains for your event.
How We Can Help You
Generation Store offers beaded curtains in a variety of colors and styles including glass, acrylic, wood, and bamboo. We have options in different price points that can be matched with most decoration schemes.
Our beaded curtains are affordable, and won't blow your project budget. Contact us today to learn more about our inventory or to inquire about custom designs or custom sizes.