Alex Roma on May 9th 2022
When our customers decorate for an event, they want to be sure that there is a cohesive theme throughout the space. The venue should feel as though guests have stepped into a new world, one that is engaging and immersive as well as one that conveys our client's vision. That means customizing the design to suit every part of the space, which can be a challenge depending on the venue.
When our client, TPC Studios, decorated the Toyland Ball, an annual fundraising event for the Parent Child Center of Tulsa, the large walls of the space served as a blank canvas, offering us a chance to show our creativity. What was the best way to use those walls to suit the Defenders of Hope superhero theme?
We supplied TPC with string curtains for large wall decoration solutions in this event, and the effect was stellar.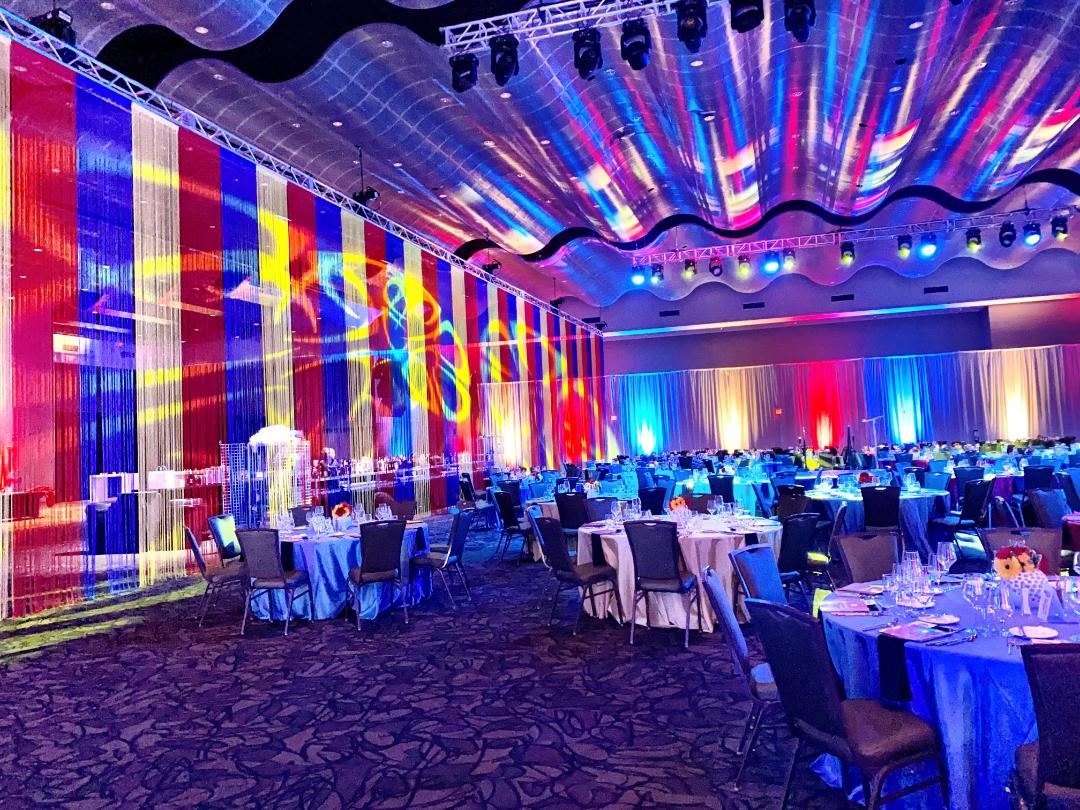 What Are String Curtains?
String curtains are an elegant and trendy curtain solution for event design needs. These hanging fringe curtains fall in long strands, either monochromatic or in multiple colors. They typically come in long measures which hang from the wall or ceiling, serving to entirely cover the wall. For the PCCT Toyland Ball, TPC chose to use extra long string curtains for the best dramatic effect.
The Toyland Ball Theme: Defenders of Hope
The PCCT is a nonprofit organization in Tulsa with the aim of preventing child abuse by giving parents the tools and resources to provide for their child in a healthy way. They approach child abuse prevention through education, advocacy, and treatment, offering hope and healing families. So it's little surprise that the theme for their 2022 Toyland Ball was Defenders of Hope, following a superhero aesthetic.
The title of the event was in all caps with raised, shadowed letters reminiscent of a comic book. Minimalist designs of skyscrapers brought to mind epic superhero battles, two big screens stood at the center of the stage, and the lights hanging from the ceiling came in bright, poppy superhero colors. TPC used string fringe curtains to not only decorate but bring the room together, literally enveloping it in theme.
Colors For String Curtains
String curtains can be found in a wide array of colors. Some events call for elegant silver or gold, or a monochromatic accent color. For the Defenders of Hope theme, we needed something more vibrant and bold. TPC took all the colors of the event into consideration to choose our multicolored string curtains. The colors fell in strands of bright blue, red, and yellow, matching the lights above and the overall superhero theme of the space. The lights, positioned just behind the string curtains, helped to add variance and cast patterns.
Flexibility of String Curtains For Large Wall Decoration
String curtains can serve to decorate your large walls, but they can also serve as walls themselves. A long string wall hanging can help to enclose a typically open room to make it better suited to the event. They can also be hung from a moving track along the ceiling, so they can serve as curtains that can be pulled back for a main event. This was the case at the Toyland Ball. The string curtains hung in front of the stage and the TV screens until it came time for the main event. Then the curtains were opened to direct everyone's attention towards the front.
How to Make the Most of String Curtains for Large Wall Decoration
String curtains work best when you have a large wall to work with. They are festive by nature, as they evoke the same sort of feeling as streamers, but with much more style and elegance. Therefore, string curtains tend to be best suited to events like galas, weddings, fundraising, or celebrations of some sort. Make sure that the string curtains you use are best suited to your event's colors. A color sampler can help you get a sense of your overall aesthetic for the big day (or night).
At Generation Store, we have a wide range of string curtains -- from elegant gold and silver to fun multi-colored string curtains. Whatever the theme of your event, there are string curtains that can make it really shine.
Generation Store Can Help With Your Next Big Event
Generation Store works with event design and branding professionals for weddings, fundraising, corporate events and more. We have so many decorative resources to choose from, no matter what your event might be. Contact us today to order custom string curtains or to talk to us about your next event.