Julia Franco on Jun 20th 2022
The best way to make an event sparkle is to use sparkling decor. Backdrops made with diamond-cut hanging beads add elegance to weddings, fashion shows, and any other event where impressing guests is paramount. One major advantage of this beaded backdrop is that it is made with a satin rod pocket that works with a regular plastic rod or pipe and drape display. It is 36 inches wide with a 3-inch pocket diameter. The satin top pockets fit over big and small poles, making these backdrops easy to erect and take down.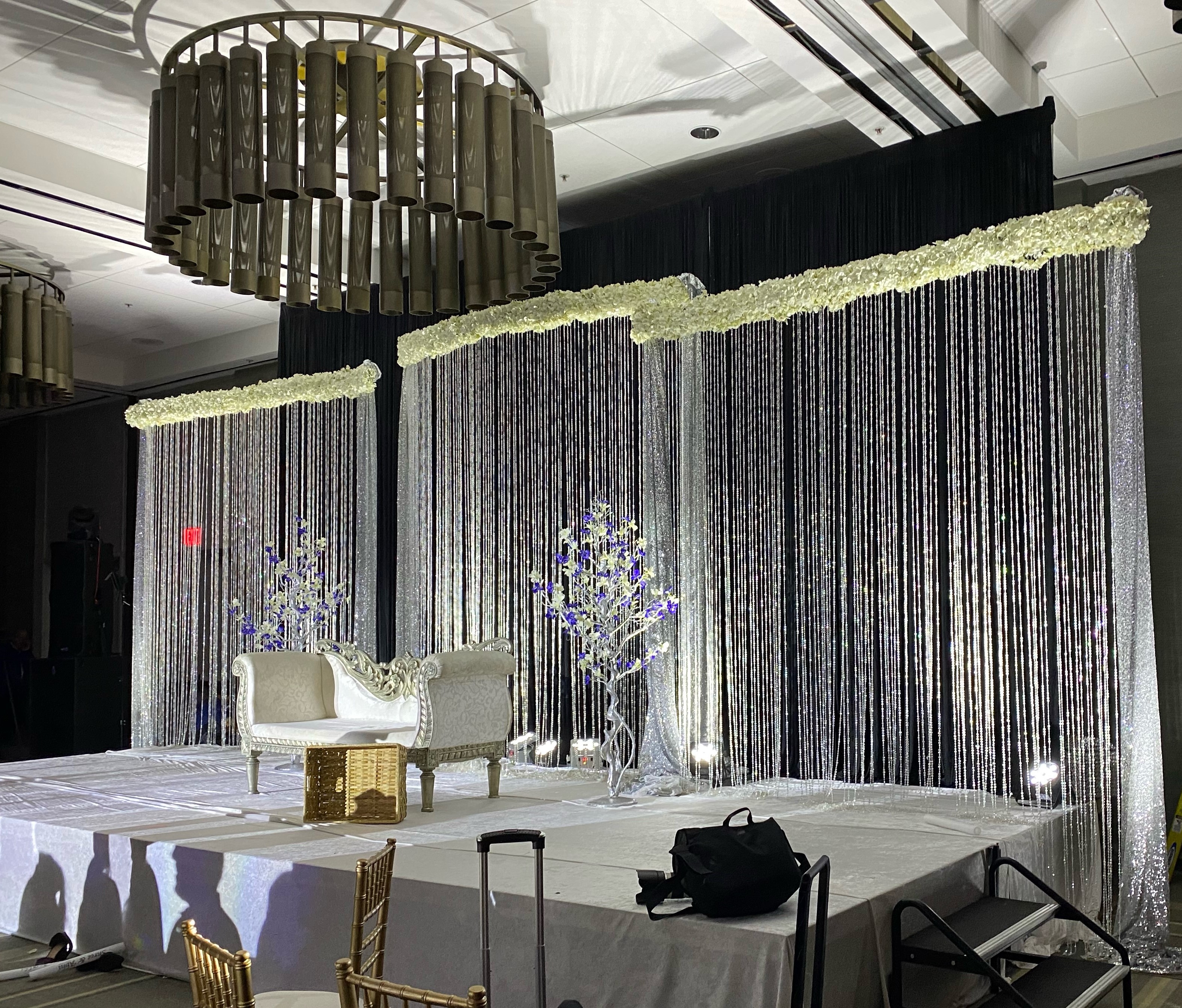 Image courtesy of Rami's Flowers & Flowers
In addition to being beautiful, large beaded backdrops for weddings or any other events are also practical. You can use them to create walkways, section off areas, or provide a glamorous background for products and speakers.
Benefits of Beaded Backdrops
You can use wooden or cloth panels to create subdivisions in a large room, but these materials can feel stifling. By contrast, beaded backdrops create distinct areas while simultaneously maintaining a sense of openness. When they're placed along walkways, they guide flow through the venue. Plus, if the event attendees need to get somewhere quickly, they can just go through the curtains rather than navigating a maze of room dividers.
Beaded backdrops are designed with both aesthetics and practicality in mind. Each iridescent crystal bead has been cut so that it reflects light, which makes these backdrops great for low-light events. The backdrops are three feet wide and available in 6, 9, 12, and 20-foot lengths. The fabric rod pocket is made of durable white satin. The opening of the top pocket can accommodate large or small diameter poles. It's a perfect choice if you're planning to use pipe and drapes systems.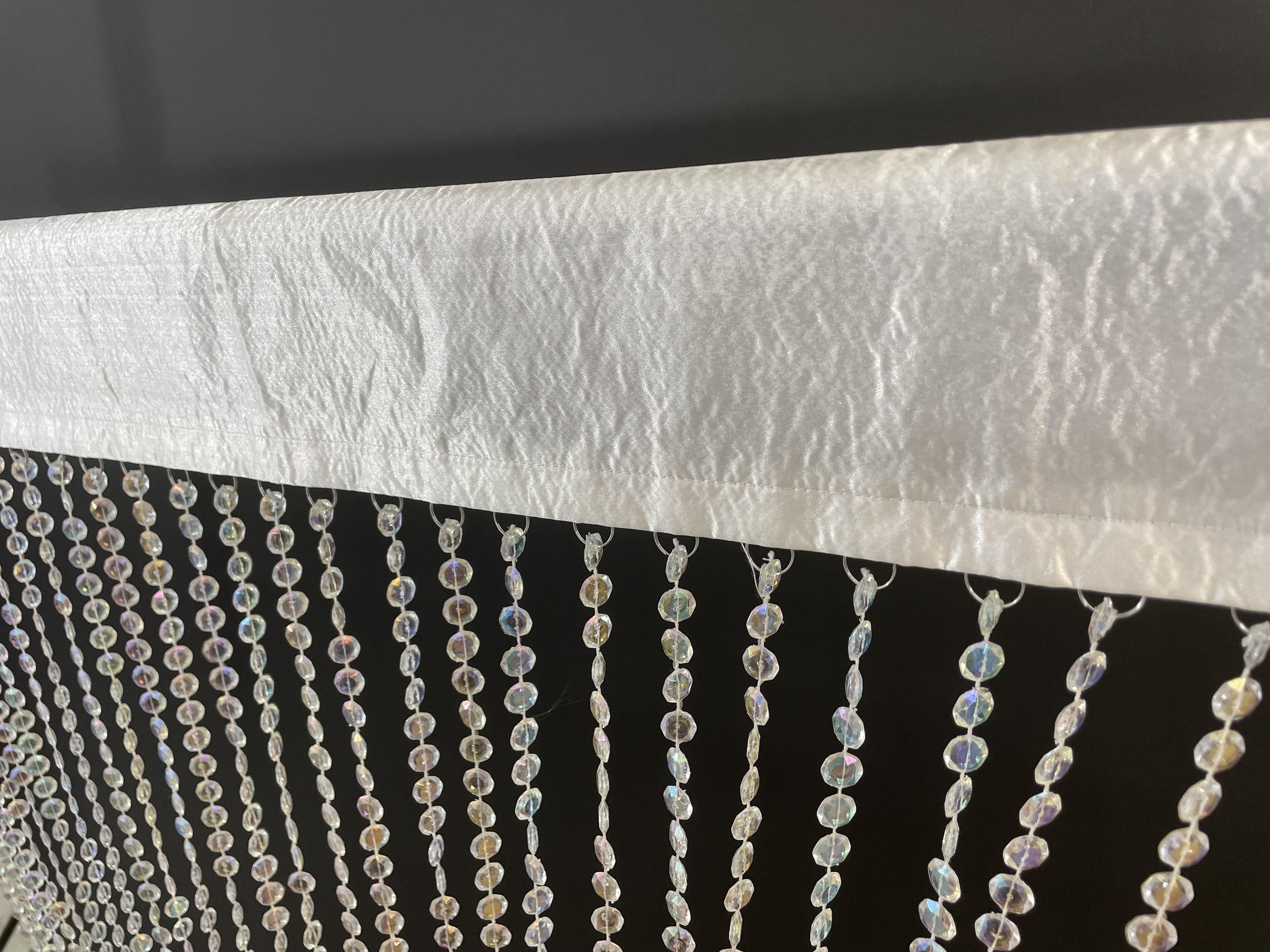 Event Uses for Beaded Backdrops
Beaded backdrops can be integrated into many types of events. Light colors match any color scheme, which is why the diamond cut beaded backdrop is made with white satin fabric and clear crystal beads. The fabric pocket fully covers the rods, so you don't have to worry about finding matching curtain rods.
You can use beaded curtains to organize an event space or for purely aesthetic reasons. Large beaded backdrops are great for covering up ugly walls or anything else you don't want guests to see. Here are just a few ideas for using beaded backdrops in weddings, tradeshows, and fashion shows.
Weddings
Hanging crystal beads are beautiful, which makes them very popular for weddings. The white satin color is easy to color-coordinate with a classic wedding dress. Beaded backdrops don't block sound, so if the couple wants music at their event, you can assure them that the music will remain fully audible throughout the event space. Use beaded curtains to create an aisle for the couple to walk down or to section off an area for dancing. Beaded curtains also make a nice buffet table backdrop.
Tradeshows
Beaded curtains provide an excellent backdrop for tradeshows. You can draw attention to unique products by positioning them in front of large beaded backdrops. If the tradeshow lasts several days, you can rearrange the backdrops to accommodate changes in the items being displayed. With a pipe and drapes system, event organizers can quickly set up and take down a beaded tradeshow backdrop.
Fashion Show
Hanging crystal curtains make a dazzling fashion show backdrop. When used in combination with lighting, beaded backdrops create a strong visual focus point. They are elegant and attention-grabbing. They're also perfect for lining runways, since they create a clear path without blocking the audience's view of the performers.
Retail Window Displays
Make your merchandise stand out with a backdrop of acrylic hanging beads. Use muted bead colors for visual contrast with brightly colored items or simple metallic beads to catch the light and make the items shine.
Backdrop beads highlight new fashions and add a festive touch to holiday displays. Hanging them and taking them down is a simple process. Plus, the backdrops can easily be customized to suit your needs.
Customization Options
If the standard diamond cut beads aren't suitable for your needs, you can place a custom order. Adjust the bead sizes, shape, color, or material to match the theme of your event. Popular types of beads include faux metal ball chain beads, hip circles beads, and champagne bubbles beads. You can order beads made from acrylics, glass, wood, or bamboo. Acrylics beads are resistant to breakage, glass beads have a unique sparkle, and wood and bamboo produce a nice rustic effect.
Contact Generation Store to peruse their products, place custom orders, or request a quote for an order.